Return to Available Land property page
390 Loudon Road, Concord, NH - For Sale

3 Acres of Land with a 1,985 SF Home For Sale with 375 feet of frontage on Loudon Road. Municipal water & sewer on road, Unitil power supply and natural gas. Perfect site for commercial development on heavily travelled road where the traffic count is approximately 21,000 vehicles per day.
Address:
390 Loudon Road
Concord, NH 03303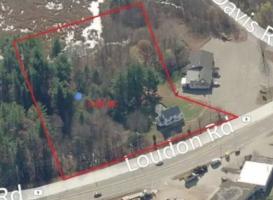 Vacant Land for Sale
Site Data
Site Acres
3 Acres of Land with a 1,985 SF Two Story Single Family House
Frontage
375 Feet on Loudon Road
Zoning
Gateway Commercial
Map & Lot
Map 46/Z Lot 49
Book & Page
Book 3557 Page 0373
DISCLAIMER
The information contained herein is from sources deemed reliable, but is not guaranteed by Stebbins Commercial Properties LLC. All data is subject to error or omissions without notice.
Buyers or tenants are encouraged to perform their own inspections and due diligence on this property.
Print this page
Contact
Michael F. Reed

About This Listing

Fill Out The Form Below
(*) Indicates Required Field
0